For Many, Cold Temps Getting People Heated
by Brian Kirk, Meteorologist/Reporter
December 08, 2013 5:34 PM
We have been sitting in the freezer for quite some time now, but Saturday morning nearly froze the mercury in the thermometers. A handful of record-setting overnight lows were observed, and it looks like these arctic nights will stick around for a bit longer before a warm up as we approach the weekend.
These are some of the temperatures from around SD (via NWS), those surrounded by a blue box denotes a new record. This was cold enough to push wind chill temperatures well in to the -40s.
The funny part is that the coldest place in the entire country was Chinook, MT. They saw a low temperature of -42°, but it STILL wasn't a record (-45 in 1927)!

Below is a picture of the guilty party, the jet stream. The image shows its location and how it is oriented across America. This ribbon of air is located around the same height as commercial aircraft, and notice the giant kink, that is basically opening the door for that Arctic air to flood southward.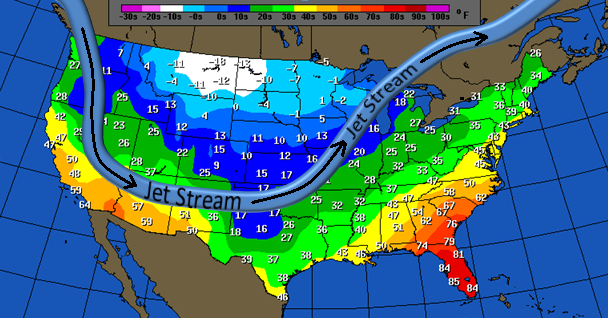 A lot of people want to throw around terms like La Niña. The data actually indicates that this year their isn't really a case for an argument on either side for an El Niño or a La Niña. Below is a running index of the El Niño Southern Oscillation, and things right now are looking pretty neutral as far as a classification of a Niño/Niña influence.

As this cooler air sinks southward, it's even reaching places like SoCal, Texas, and the Southeast. This is a really nice image (via TWC) showing just how cold a lot of the country is right now – it's not just us. Meanwhile, Florida can sit back and laugh as temperature along the Gulf were sitting in the mid-80s this weekend.
Places like Texas and Arkansas ran into a big problem as this air mass slid in their direction. The air above the surface was creating havoc with the moisture, not being able to change to either all snow or all water. This created a lot of sleet and freezing rain and the images, such as below, look a lot like what happened in Sioux Falls in April.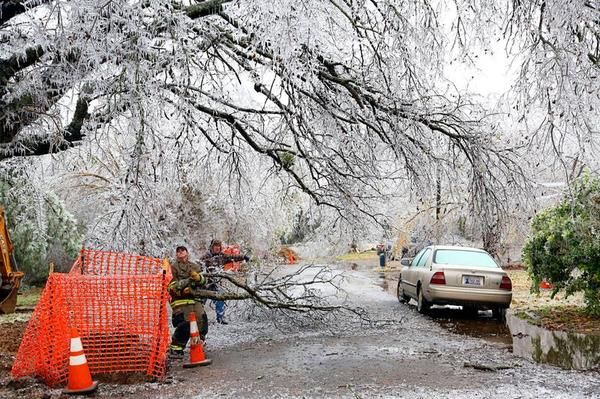 Cold snaps like this occur a lot around the globe, and this year we find ourselves dealing with one here in the Upper Plains in December. With the coldest months (on average) still ahead of us, we could see more records broken. Climatologists with the NWS issue outlooks and this is what their calculations say Dec/Jan/Fab may end up looking like. It looks like ND might have the best chance at seeing below average temperatures while those in/around Texas could have a good chance at seeing warmer then average temperatures.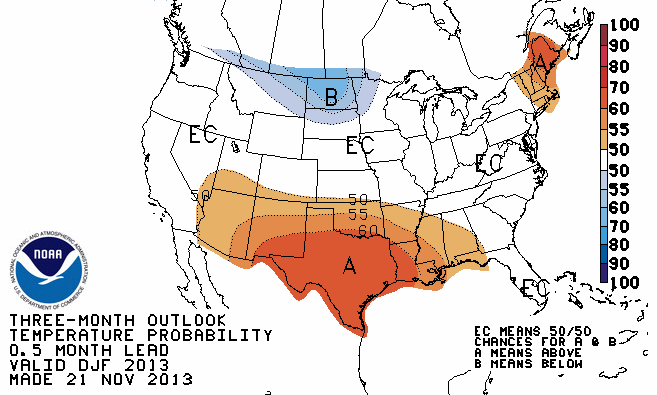 Things are finally looking to warm up a bit into the weekend -- but for now keep the pets inside, keep the car warmed up, and bundle up the kids.